One Shot Productions is preparing to bring to the screen a magical motion picture that is a throwback to the days when movies moved you with tension and a compelling story. TAKE-AWAY SPIRIT embodies the best elements of classic American horror films and Chinese ghost stories. It will be something you have never seen before and yet something that you will feel has haunted your memory from the beginning of time. Are your body and soul one mutually existing force or does your body merely encapsule a spirit that can live on from one age to another until it finally meets it Maker or succumbs to its Destroyer?
In the pages of this mini-website, you can follow the progress of TAKE-AWAY SPIRIT from it's earliest stages, through pre-productions, casting, filming and final presentation. Follow our News Updates for all the latest information.
If you are interested in participating in this project in any way, please feel free to contact us through either our "Contacts" or "Music Wanted" page.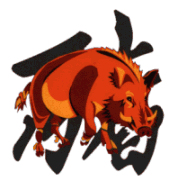 HAPPY YEAR OF THE PIG!